Driving a supercar or a high-flying jet may be the fastest way to get around in GTA Online, but nothing beats driving through the streets of Los Santos in all-American muscle. Sure, they may not be the fastest cars in the game, but who needs speed when you've got style?
But which muscle cars are worth purchasing in 2022? What are their stats, and which feel the best to drive? Do any of them have good customization? We'll be covering all of that and more by going over the best muscle cars in GTA 5 Online.
Let's get started!
7 Best Muscle Cars, Ranked from Good to Best
We'll start with our least favorite choice and move up to our #1 pick for the best muscle car in GTA Online.
7/7
Vapid Peyote Gasser
Speed: 79.68/100 | Acceleration: 86.13/100 | Braking: 30/100 | Handling: 68.48/100 | Added: November 28th, 2019
Starting off our list of GTA V Online's best muscle cars is the Vapid Peyote Gasser. Arguably the classiest looking car on this list, Rockstar added this muscle car to GTA Online alongside the Diamond Casino & Resort update. Southern San Andreas Super Autos sells this vehicle for only $805K.
The Vapid Peyote Gasser sports a top speed of 118 MPH. It features good acceleration and decent braking. It's a solid muscle car to use in races with few turns, but I wouldn't recommend you use it in a track with tight corners. There are cars with far better braking that are easier to control.
Rockstar designed this classy-looking car after the real-world Ford Thunderbird. Customization-wise, the Peyote Gasser features several rally-themed liveries that look like something out of The Dukes of Hazzard. There are a few more modern-looking and "fun" liveries, such as the "Cocktail Kitty" livery, which drenches the car in a cyan blue and pink color palette!
6/7
Vapid Pisswasser Dominator
Speed: 78.87/100 | Acceleration: 77.50/100 | Braking: 30/100 | Handling: 69.70/100 | Added: November 18th, 2014
At number six on our list for the best muscle cars in GTA V Online, we have the Vapid Pisswasser Dominator. This all-American muscle car has been in the game since the launch of the next-gen version of GTA V back in 2014. Interested buyers will need to visit the website Southern San Andreas and spend exactly $315K.
The Vapid Pisswasser Dominator comes with a top speed of 126.50 MPH. Unlike the standard Vapid Dominator, the Pisswasser variant features better stats in several categories. It sports a good top speed and acceleration, as well as great braking for a muscle car. It performs well in most races, but on tracks with numerous corners, you'd be better picking out a car with better braking and traction.
Due to the car coming with a pre-determined livery, you won't be able to change it in any garage. Changing the color of the vehicle will adjust the tint of it, but aside from that, there isn't as much customization as one would like. The livery still looks great, so I'm not complaining.
5/7
Declasse Drift Yosemite
Speed: 75.12/100 | Acceleration: 98.75/100 | Braking: 28.33/100 | Handling: 79.55/100 | Added: February 6th, 2020
Next, we're taking a look at the Declasse Drift Yosemite! Rockstar modeled this two-door muscle car after the Chevrolet C10. It was introduced during the Diamond Casino Heist update of 2020. This is one of the spendier cars on this list — wealthier players can acquire this vehicle from Southern San Andreas for exactly $1,308,000!
This car's top speed is clocked in at only 108.25 MPH. Thankfully, it's very impressive acceleration more than makes up for it. Braking is slightly worse on this car than previous vehicles, which can be a problem considering how quickly you will pick up speed. Overall, it is a very solid muscle car, and it performs well during races.
Given its utility as a racing car, it seems odd that there are so few racing liveries for the Yosemite. If racing liveries aren't for you, there are three variants of hot rod flames to choose from, as well as an all-American styled livery called "The Patriot," which decks out the car in red, white, and blue.
4/7
Imponte Duke O'Death
Speed: 81.56/100 | Acceleration: 87.50/100 | Braking: 30/100 | Handling: 68.48/100 | Added: November 18th, 2014
Coming in at number four is the Imponte Duke O'Death. This unique-looking armored muscle car is modeled after the real Dodge Charger. Rockstar added this vehicle alongside the next-gen release of GTA V back in 2014. Unlike other cars on this list, you will need to visit Warstock Cache & Carry to purchase it for $665,000.
The Imponte Duke O'Death has a good top speed of 114.25, with very good acceleration to boot. The braking is the same as the first two cars on this list, but that number is still low anyway. This armored car functions as a speedy alternative to the armored Kauruma. It lacks offensive weapons, so don't expect to win any PvP matches with this one (unless you consider running someone over repeatedly to be PvP).
Just like most older cars in GTA V, the Duke O'Death lacks liveries to give it that little bit of flavor it needs. It is still a good-looking car, of course. If you are a fan of The Dukes of Hazzard, you can paint it a bright shade of orange for some nostalgic flavor! I kept mine black to give it a tactical, military look.
3/7
Declasse Impaler (Arena)
Speed: 83.17/100 | Acceleration: 95/100 | Braking: 23.33/100 | Handling: 72.73/100 | Added: December 11th, 2018
Getting into our top three picks for the best muscle cars in GTA V Online, we are looking at the Declasse Impaler (Arena). This car can only be acquired by purchasing the regular Impaler for $1,209,500 from ArenaWar.tv. Players can upgrade it from their Arena War Workshop to one of three different variations. This vehicle was added to GTA Online alongside the Arena War update.
This car has a very impressive top speed of 130 MPH, and an excellent acceleration rate. It has poor braking, but better handling than the other muscle cars featured on this list. It can be upgraded in your Arena Wars Workshop with a jump mod and boost upgrades, making it a fun vehicle to just mess around with.
Whether you love or hate Arena Wars, you can't deny that it has some of the best customizations in the game, especially considering it was released back in 2018. You can change the color of headlights, and even add a trim color to your ride! As for liveries, they do not coat the entire car like they normally do, but instead only a small strip of the vehicle on its side. Even if this is a little disappointing, you can still get some incredibly unique customizations on your Impaler.
2/7
Vapid Dominator ASP
Speed: 80.89/100 | Acceleration: 85.50/100 | Braking: 30.67/100 | Handling: 100/100 | Added: August 5th, 2021
Taking the silver medal we have the Vapid Dominator ASP. Rockstar added this street racer earlier this year through the Los Santos Tuner's update. GTA Online players can purchase this vehicle via Southern San Andreas for an exact price of $1,775,000.
While the top speed of this car is only 119 MPH, it more than makes up for it with its acceleration and perfect handling. This makes it an excellent car to use in races with numerous turns and tightly packed roads. Overall, the car is very satisfying to drive and is a must-buy if you love muscle cars.
Since this is a very recent car to hit the market, it sports some of the best and most extensive customization options in the game. While upgrading it, I actually got annoyed from spending so much time flicking through so many options! If you are a fan of the Fast & Furious series, you'll love the "Not Tonight Pizzaboy" livery, which is a direct reference to the first film.
1/7
Bravado Gauntlet Hellfire
Speed: 83.17/100 | Acceleration: 90/100 | Braking: 30/100 | Handling: 71.21/100 | Added: September 5th, 2019
And finally, taking first place for the best muscle cars in GTA 5 Online is the Bravado Gauntlet Hellfire. This beefy-looking car is based on the real-world 2018 Dodge Challenger Demon, and was added with the Diamond Casino & Resort update. It is sold only on Southern San Andreas and can be picked up for $745K.
The Gauntlet Hellfire has an excellent top speed of 125.25 MPH, a very high acceleration, and good handling to boot. It is most useful when racing down tracks with few corners and lots of straight pathways. While it may not be the fastest muscle car, it is excellent in nearly every category, making it versatile.
Beauty may be in the eye of the beholder, but it would be hard to find someone who doesn't appreciate the look of the Gauntlet Hellfire! This is the best-looking muscle car in my garage, and it features several interesting liveries. My favorite being the highly detailed "Too Much Free Time," which coats the car in beautiful black decals that look good with any color.
Join the High Ground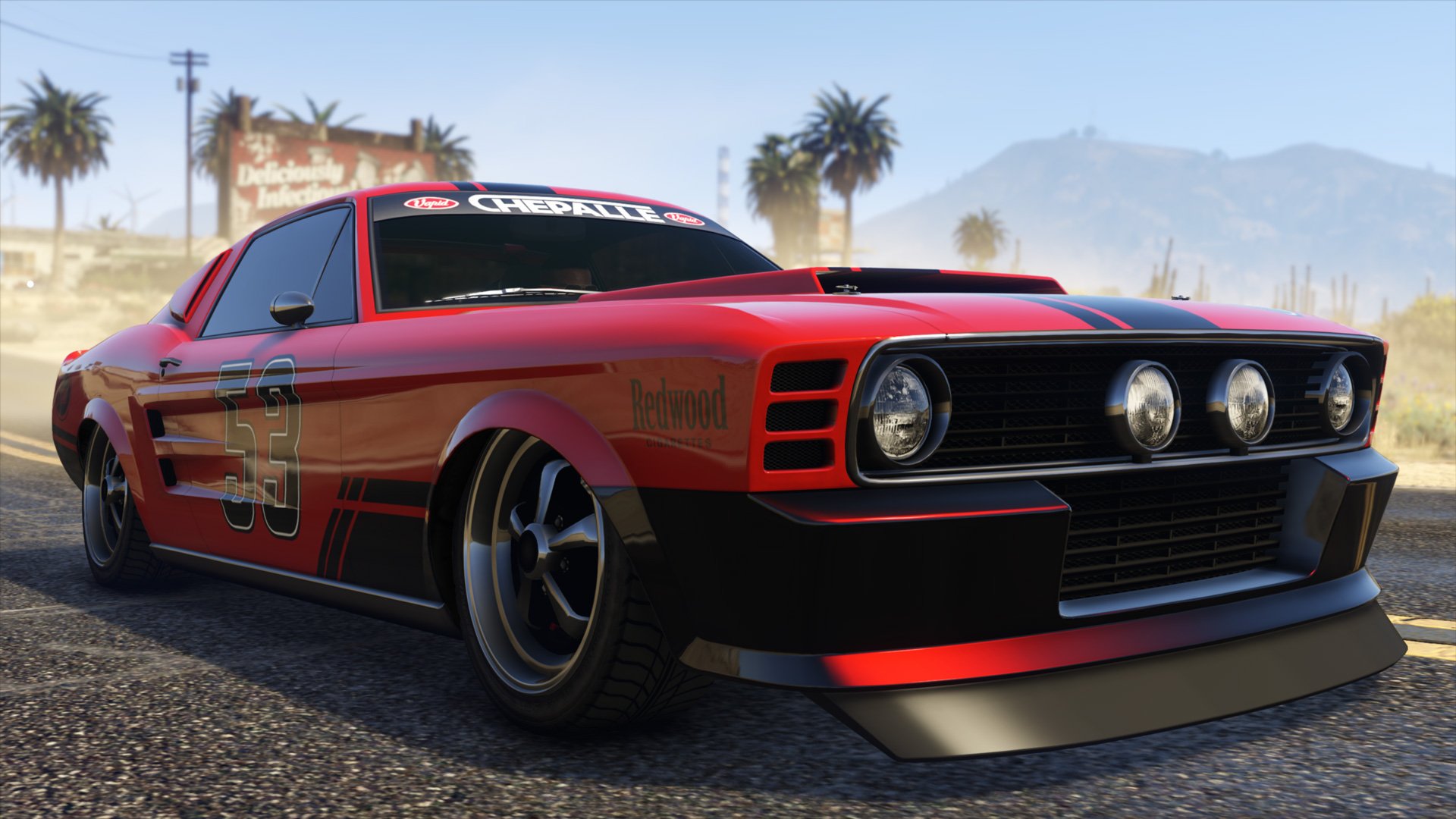 Special shoutouts to the folks at GTA Database for filling us in on the stats of GTA Online's muscle cars, YouTuber Broughy1322 for testing each car's top speed, and YouTuber Digital Car Addict for showing off their customization options.
If you enjoyed this article, be sure to share it on social media and subscribe to our newsletter! We offer regular features on all the latest games.
Happy gaming!